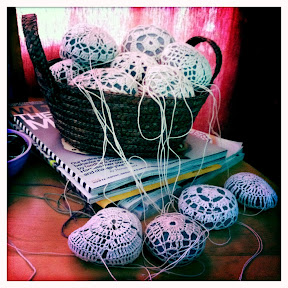 I have to admit something.
While I Completely Adore the act of crocheting these wacky lil' things, I Absolutely Can Not Stand to spend the time to tuck in all those little ends. Makes me nuts.
I'm sure that reveals something awful lacking in my personality, but there you go.
Feel free to psycho-analyze me. Just make sure you let me know if it turns out I'm on my way to the Funny Farm.
Or not.
Maybe I don't wanna know.
/Julianna