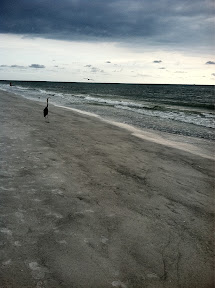 At first glance, an astute observer would notice the Great Blue Heron in this picture (can't miss him, really, and on closer observation, this guy was a hot mess, with the avian equivalent of mange or something equally hideous), but what I'm really showing is the utter lack of pebbles and/or shells of usable size for the Project.
Sigh.
But, not to fear... I had the foresight to bring along a small assortment of Curious Pebbles from home, which I had planned to give them to friends along the way. But, after two days of shell seeking for suitable bits to crochet and leave on the beach, all I've found is a rather too large Pen Shell. It's a foot long. I don't have that kind of time, and actually, I think I'd like to keep it... I know. I'm selfish.
So.
Pebbles pre-made in California, with California pebbles, it is.
My friends will have to forgive me.
And here is installment numero uno:
Pebble number one...
Left on the beach between 6th and 7th streets on Indian Rocks Beach.
Did you find it???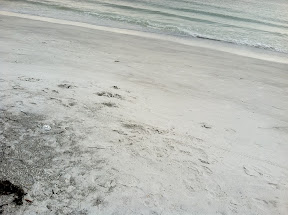 If YOU found it, please sign the guestbook and tell us what you think! We (as in, Me, and my utter scads -hahahaha!- of followers) would love to hear from you!
I'm posting from my phone, and it's easier to ask that you click the Guestbook link up on the top right of the page than insert some HTML code... Sorry.... Me being selfish again, I suppose...
There were also these lovely pics today: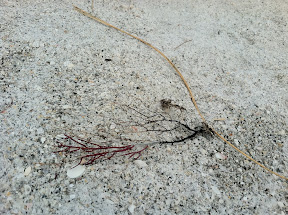 A Piece of what appeared to be a red, white & blue striped sea plant. How very American of it....
The view from what I'll just pretend is my forever-house... Even though we're only here for a week....
An Ibis on the shore doin' his Ibis thing.
My boy. He was with his Grandmother and Grandfather in Ohio for THREE WEEKS, and I missed the Dickens out of him... I'm so happy to have him back, that I can't stop taking pictures of my monkey.
Silly mommy.
Stay tuned.... More pebbling to come in the next few days!
/Julianna